Experts from Google Research and dell 'Hebrew University of Jerusalem they developed Dreamix, a software that can use any material to create videos that match text instructions. Another step forward of generative artificial intelligence in the protection of all forms of expression (after testi, images e audio). What is special about Dreamix is ​​that it is not limited to text instructions, but also accepts reference photos or videos for better adaptability to users' ideas.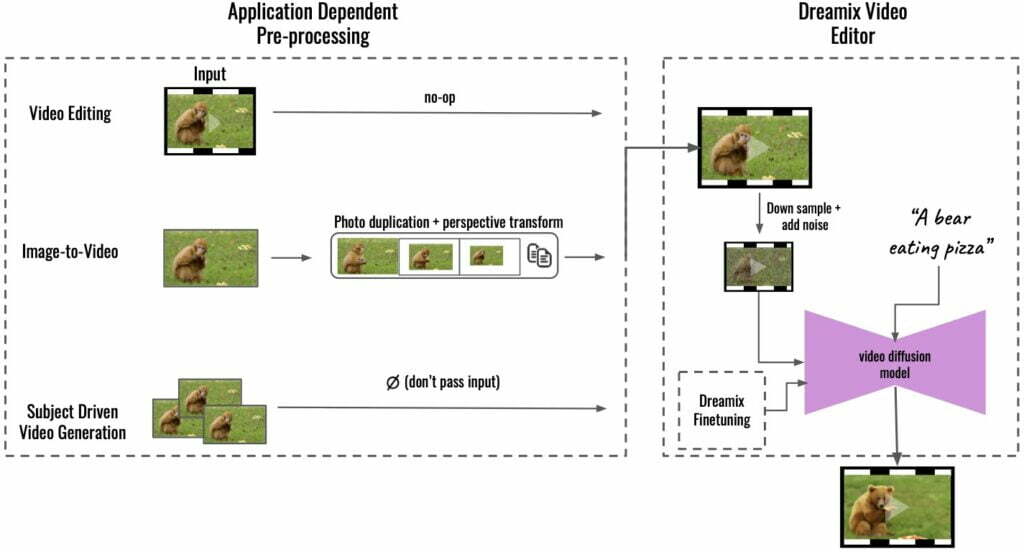 Three operating modes starting from text instructions, images, clips
Starting with images, clips or text instructions, Dreamix provides three main features: video editing, generation of video from images and generation based on the subject.
With the 'video editing, Dreamix can easily play input videos and replace items with your favorite objects. For example, you can upload a clip of a person cutting a piece of fruit, and ask the AI ​​to replace the fruit with a piece of cake. You can provide some footage of a cornfield and create more dramatic scenery. As always, I'll first show you the clips of the two examples.
Dreamix is ​​capable of producing videos starting with images (and/or text instructions). In this example, the AI ​​has transformed a static image into a dynamic work by inserting a swimming shark and making the turtle move. The position and background have been kept true to the original image, while the turtle's direction has been changed.
The last of the three features allows Dreamix to create animated videos from a small collection of images showing the same subject. For example, if you give this AI some images of a toy firefighter, it extracts the visual characteristics of the subject and animates them so that the subject can perform actions defined in text instructions.
In summary
This technology could be a game changer for creatives who not only rely on verbal language, but who are also inspired by visual art. At the moment the results still seem very uncertain, but they still demonstrate the ability of AI to understand text instructions, and the context of input images.
Dreamix will be a great help to speed up the creation of storyboards or generate reference illustrations. It's not publicly accessible at the moment (and we wonder if Google will make it one of the "standard bearers" to respond to ChatGPT), however it won't be long before we see this or other similar tools being developed by different companies.
Generative artificial intelligence is also destined to have its say with TV and cinema. Want more examples? Here is the whole presentation.