A 73-year-old Indiana woman gave birth to twins in the South Indian state of Andhra Pradesh, rekindling bitter controversy over geriatric pregnancies.
The doctor who managed the geriatric pregnancy that took place yesterday with cesarean section is Sankkayala Uma Shankar, a well-known specialist in India. Interviewed by The Post, he said that mother and girls are doing well.
Mangayamma Yaramati and her 82-year-old husband have wanted children for a lifetime (literally, I would say), and have undergone the silent treatment for years in their Indian village for those who have no children.
"We've done everything, tried a lot of doctors, but we never got it. This is the best day of my life."

Mangayama Yaramati
"The twin birth was very sweet, there was no complication," explains the doctor. "The patient only had some breathing difficulties with the first baby, but she was monitored until her pregnancy record."
In vitro veritas
The twins were conceived with in vitro fertilization. Mama Yaramati was already in menopause, and so was a donor's egg was fertilized with the seed of her husband before being implanted to produce birth. In these cases the parts with twins are not uncommon.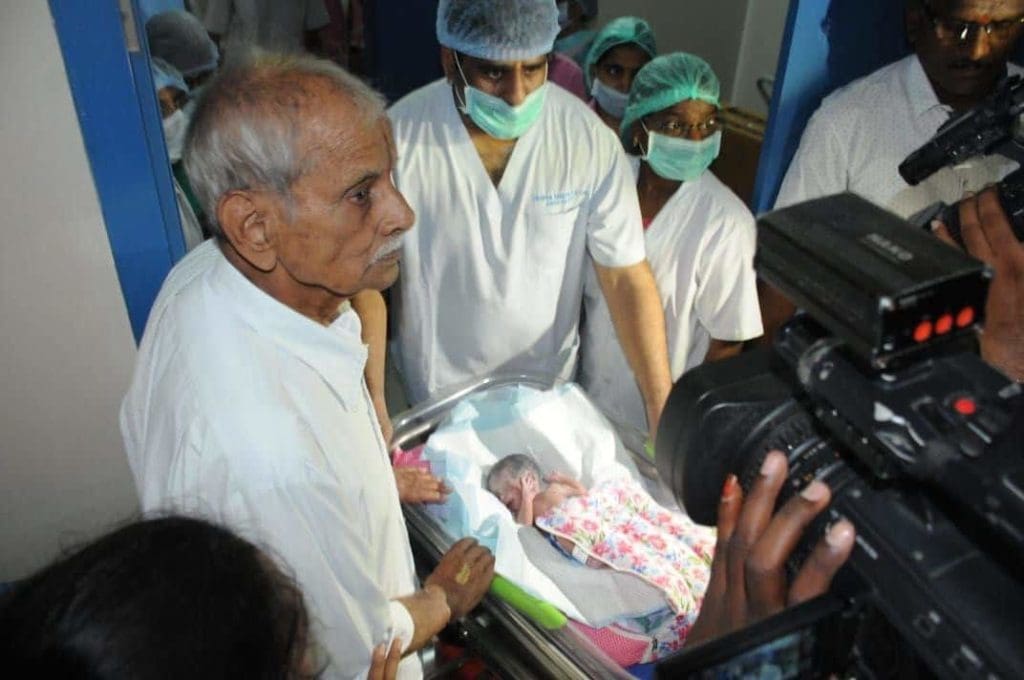 Shannon Clark, a professor of maternal and fetal medicine at the University of Texas claims that geriatric pregnancy with a record birth in Yaramati is decidedly atypical. He added, however, that it should not surprise us any more given the advances in assisted reproduction technologies and in general in longevity studies.
"Eggs deteriorate in quality and quantity over time, but the uterus is not subject to the same rules," explains Clark.
However, Yaramati is at this time the oldest woman in the world to have given birth to children. The record three years ago belonged to a XNUMX-year-old Indian woman.
The record for a pregnancy without assisted fertilization belongs instead to a 59 year old English woman, who in 2007 she gave birth without scientific aid.
The controversy
The contrast between two visions is really strong. Many ethicists have been raising bitter controversy for years over geriatric pregnancy at an increasingly advanced age. They consider it an irresponsible act. Others, including of course doctors who have helped women get pregnant and have record twins, say even record pregnancy, even if a woman gives birth at 95, is "a fundamental right" and as such cannot be denied to people alone. due to age.
In a 2016 document, the Ethical Committee of the American Society of Reproductive Medicine discourages doctors a "provide donor oocytes or embryos to women over the age of 55 to produce a record twin birth, or in any case a large multiple birth, even when they do not involve particular medical problems".
The reasons are related to the safety and longevity of the unborn child, as well as to the "need for adequate psychosocial support for the growth of the child at such an advanced age".
What do you think of it? For or against? A record multiple births like the Indian one in Italy has never happened. With us the record of twin births is now stuck at 62 years of age. Are you ready to see the psychological threshold of 80 years collapse? One day in the newspaper we will read "woman gives birth at 95".
Give us time and the "great-grandmothers" will become reality.